Shopping Cart
Your Cart is Empty
There was an error with PayPal
Click here to try again
Thank you for your business!
You should be receiving an order confirmation from Paypal shortly.
Exit Shopping Cart
| | |
| --- | --- |
| Posted on June 29, 2018 at 10:05 AM | |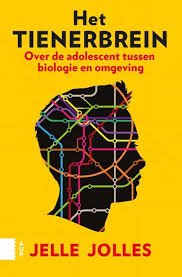 In zijn boek 'Het Tienerbrein' besteedt Jelle Jolles een apart hoofdstuk aan het puberbrein in relatie tot de sport. Daarin geeft hij o.a. aan dat je voor bal- en teamsporten niet alleen motorisch goed moet zijn, maar ook vaardig en snel in waarnemen, taal, ruimtelijk denken en geheugen. 
Rol begeleiders
Bij sport scheppen de ouders en de coach of begeleider de voorwaarden voor groei. Zij zorgen ervoor dat de jongere positieve ervaringen kan opdoen. Omdat de sociale omgeving goede voorwaarden heeft gecreëerd kan de tiener zich ontplooien, want het brein kan optimaal rijpen en de vele hersennetwerken ontwikkelen zich daardoor: context shapes the brain. Sporten betekent net als spelen 'kunnen communiceren': met coach en scheidsrechter en met andere sporters binnen en buiten het team. Maar ook thuis moet een jonge speelster iets zinnigs kunnen zeggen over hoe een training ging. Ze moet dus taalvaardig zijn.
Leerervaringen
Alle informatie uit de omgeving, en trainingen, wordt door tieners opgeslagen binnen de hersenen. Op het sportveld uit zich dat in een net wat snellere reactie, een nauwkeuriger schot met de bal of een creatievere oplossing in een wedstrijd. Leerervaringen worden dus onthouden.
Het sportende brein ontwikkelt zich in meerdere dimensies:
- simpele en complexere motoriek, eenvoudige en complexere bewegingen
- coördinatie van bewegingen van ledematen en romp, balbehandeling, snelheid, kracht
- waarnemingsfuncties: auditief, visueel, ruimtelijk, haptisch (de tast betreffend), evenwicht
- plannen en handelen: kiezen, beslissen en handelen onder tijdsdruk, gebruik van een tactisch en een strategisch plan
- het begrijpen van de intenties van medespelers, tegenspelers en coach, kunnen samenspelen
- zelfinzicht en zelfregulatie, aanpassen van het eigen gedrag
- verwoorden van de eigen bedoelingen en kunnen communiceren 'wat er gebeurt' en 'wat de bedoeling is'
- frustratietolerantie, houding op het veld, motivatie, ambitie
- sociaal gedrag en attitude
Impulsiviteit
Naarmate een tiener ouder wordt, wordt hij steeds beter in het beheersen van zijn impulsiviteit. Impulsiviteit hangt samen met de ontwikkeling: de hersenen zijn nog niet zo goed in het afremmen van gedrag, maar de impulsremming ontwikkelt zich wel. En dat geldt ook voor de planning en het vermogen om te kiezen en te beslissen. Ook inzicht in andermans intenties moet je leren: thuis, op school en op het sportveld. Dat is lastig voor veel jeugdige sporters. Ze moeten naar eigen gedrag en functioneren kunnen kijken en bedenken wat bijv. de coach ervan vindt.
Routes
Coaching en begeleiding door volwassenen zorgt ervoor dat 'routes' worden gewezen. De tiener heeft vaak behoefte aan emotionele steun, maar ook aan gerichte begeleiding. Daarnaast is het belangrijk om hem uit te dagen en opties voor te leggen, inspiratie te geven. Een tiener heeft vaak moeite om in te schatten wat zijn capaciteiten zijn, met het stellen van prioriteiten, het vergelijken van de voors en tegens, het afwegen van de verwachtingen van de ouder of coach en het overzien van de consequenties. Veel kinderen van twaalf zijn nauwelijks in staat om 'morgen' te onderscheiden van 'overmorgen'. De termijn van 'over een week' is voor hen te abstract.
Empathie
Wat pas later in de adolescentie tot ontwikkeling komt, is het goed kunnen inschatten van andermans bedoelingen en eventuele emoties, en de vaardigheid om te gaan met de eigen vermoeidheid en pijn en die van anderen (empathie). Als coach moet je daarnaast oog hebben voor het feit dat een tiener soms móét rebelleren. Af en toe zelfs tot het twintigste jaar. Dat vraagt zijn brein van hem. Maar een volwassene hoeft dat niet te accepteren: je moet de jonge sporter vooral duidelijkheid geven over de zaken die in een sociale situatie wel en niet kunnen worden geaccepteerd.
Categories: Literatuur
/