Shopping Cart
Your Cart is Empty
There was an error with PayPal
Click here to try again
Thank you for your business!
You should be receiving an order confirmation from Paypal shortly.
Exit Shopping Cart
| | |
| --- | --- |
| Posted on May 18, 2016 at 10:30 AM | |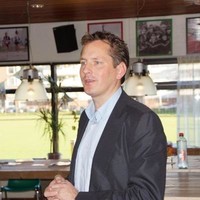 Rotterdam Topsport is een netwerkorganisatie en ontwikkelt zich daarnaast ook steeds meer tot een samenwerkingsorganisatie. Dit betekent bijv. dat ook daadwerkelijk samen met andere steden (Den Haag, Dordrecht) programma's worden gefaciliteerd en gezamenlijk nationale en regionale talentencentra worden opgezet. Belangrijkste voordeel hierbij is volgens Jan Tromp (projectleider topsportverenigingen en talentencentra Rotterdam Topsport) de financiële winst.
Evenementen

Op landelijk niveau worden wel pogingen gedaan om het organiseren van evenementen te coördineren, maar over het algemeen gaan bonden en gemeenten hierin hun eigen weg. Bonden gaan vaak shoppen en het is over het algemeen moeilijk om afspraken met hen te maken. Dit heeft te maken met de wijze waarop bonden zijn georganiseerd, met een scheiding tussen bestuur en organisatie.Een nieuwe trend op het gebied van sponsoring is dat bedrijven als bijv. KPN projecten sponsoren binnen bepaalde sporten en voor de duur van maximaal 1 à 2 jaar. Een andere trend bij evenementen is dat een bond/stad de daadwerkelijke organisatie uitbesteed aan een gespecialiseerd bureau (bijv. Shivers). Dit vanwege hun specifieke kennis en expertise, en het overdragen van het exploitatie-risico.
Mensenwerk

In de samenwerking tussen Rotterdam Topsport, Rotterdam Sportsupport en de gemeente Rotterdam (afdeling Sport en Cultuur) heeft de gemeente de regie als opdrachtgever van de overige twee organisaties. Ondanks dat blijft samenwerken toch vooral mensenwerk en hangt veel af van de persoonlijke 'klik' tussen mensen. In het kader van het opzetten van de landelijke RTO's vanuit NOC*NSF is wel contact met andere sportbedrijven op bijeenkomsten op Papendal. Daarnaast is Rotterdam Topsport op bezoek geweest bij sportbedrijven in Eindhoven en Sittard. Probleem hierbij is dat iedere situatie/regio anders is en moeilijk te vergelijken. Zo is bijv. de rol van de provincie per regio anders (ook financieel), is er een verschil in specifieke kennis en een verschil in focussporten.
Win-win situatie

Bij samenwerken draait het er vooral om dat je ook daadwerkelijke samen dingen doet en dat er een win-win situatie ontstaat zoals bij RTO Metropool. Deze samenwerking is ontstaan uit een wens van betrokken partijen om één van de geplande landelijke CTO's in de regio te huisvesten. Hiertoe is in gezamenlijkheid een strategie opgesteld. Bovendien kan men hierdoor (direct) profiteren van de aanwezige kenniscentra binnen een grotere regio.
Stichting

Voor wat betreft de stichting zou het project 'Sportregie' in Rotterdam een mooi aanknopingspunt kunnen zijn. Bij dit project wordt door de gemeente in kaart gebracht welke partijen binnen de regio (in)direct betrokken zijn bij de sport. Doel hierbij is om deze partijen bij elkaar te brengen. Daarnaast is NOC*NSF in het kader van de ontwikkeling van de RTC's met het ministerie bezig om ook Combinatiefunctionarissen in het leven te roepen die zich richten op topsport (ipv breedtesport). Verder liggen de kansen voor de Stichting WIN-WIN vooral in regio's/middelgrote steden waar nog geen sportbedrijf als Rotterdam Topsport actief is.
Ten slotte zou Stichting WIN-WIN door middel van het schrijven van beleidsplannen of project-aanvragen een bijdrage kunnen leveren omdat (vrijwilligers)organisaties hierin niet veel tijd willen/kunnen investeren (mede vanwege de geringe kans op succes). Elk plan is een kans om partijen bij elkaar te brengen en te laten samenwerken. Onderzoek ook op welke gebieden geld beschikbaar is/komt bijv. vanuit het ministerie en focus je daarop.
Vrouwenvoetbal

Als het gaat om het stimuleren van vrouwenvoetbal op eredivisie-niveau in Rotterdam zou Stichting WIN-WIN contact op kunnen nemen met de betreffende personen bij Sport en Cultuur en Rotterdam Sportsupport die zich richten op vrouwenvoetbal. Daarnaast is Jan altijd bereid om mee te denken en het netwerk van Rotterdam Topsport hiervoor in te zetten, ondanks dat vrouwenvoetbal geen focussport is binnen het beleid.
Categories: Gesprekken
/