Shopping Cart
Your Cart is Empty
There was an error with PayPal
Click here to try again
Thank you for your business!
You should be receiving an order confirmation from Paypal shortly.
Exit Shopping Cart
| | |
| --- | --- |
| Posted on March 25, 2016 at 9:35 AM | |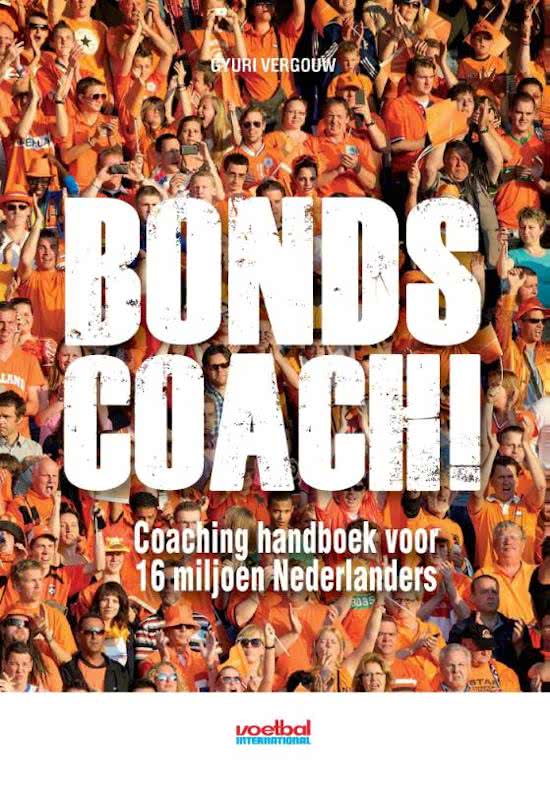 Om het inzicht in het trainersvak te vergroten heeft Gyuri Vergouw in zijn boek 'Bondscoach!' een aanpak ontwikkeld onder de titel 'MASTERPLAN'. Elke letter van dit woord is de beginletter van een onderwerp of activiteit waar een coach aandacht aan moet besteden wil zijn team succes hebben:
Missie
Aanpak
Selectie
Teambuilding
Evaluatie
Reputatie en relaties
Pers
Leiderschap
Assistenten
Nederlandse school
Bondscoach

Al ruim 15 jaar publiceert Gyuri Vergouw over het Nederlands elftal, waarbij hij altijd probeert uit te zoeken of trainers en spelers zinnige of onzinnige dingen zeggen. Daarom is hij op zoek gegaan naar antwoorden op de vele vragen die bij coaches leven. Gyuri Vergouw wil na al die jaren van onderzoek, waarin hij wedstrijden bezocht en analyseerde, tv-beelden bekeek, statistische analyses maakte en interviews afnam bij (ex-)profs, trainers en wetenschappers, antwoord geven op die ene belangrijke vraag die bij zestien miljoen Nederlandse voetbalcoaches leeft: 'weet ik het écht beter dan de bondscoach?'. Kortom: auteur en adviseur Gyuri Vergouw legt het functioneren van de bondscoach van Oranje met dit boek onder het vergrootglas.
Doelen

Gyuri Vergouw geeft in zijn boek 'Bondscoach!' aan dat het belangrijk is om binnen de sport, net als daarbuiten, een missie en strategie op te stellen. Hierbij citeert hij o.a. oud-honkballer Robert Eenhoorn die in Amerika heeft geleerd om zich, vanuit een topsportmentaliteit, sterk te richten op concrete resultaten en doelen. Maar ook vanuit de Nederlandse voetbalwereld benadrukken mensen als Rinus Michels (strategie) en Louis van Gaal (totale mensprincipe) al jaren het belang hiervan. Tactiek betekent het zo goed mogelijk gebruik maken van de beschikbare middelen (irt de sterkten/zwakten van het team). Het formuleren van doelstellingen, en commitment van de leiding én de teamleden, spelen hierbij een belangrijke rol (net als in organisaties buiten de sportwereld). Rinus Michels schreef zelfs een boek over het belang van teambuilding en leiderschap, en gaf hierin aan dat teambuilding de route naar het succes mogelijk maakte.
Evaluatie

Daarnaast geeft Gyuri Vergouw in zijn boek aan dat evalueren in de sportwereld, net als daarbuiten, zeer belangrijk is voor het borgen van prestaties en het voortbouwen hierop. Als voorbeeld haalt hij hierbij het Duitse voetbal aan, met name als het gaat om hun aanpak rond de fitheid van spelers en het nemen van strafschoppen. Hierdoor winnen Duitsers vaak wedstrijden in de laatste minuut, na verlenging of via een strafschoppen-serie. Daarbij wijst Gyuri Vergouw ook op de moeizame relatie tussen de Nederlandse voetbalwereld en het aspect van 'mental coaching'. Dit terwijl coaches uit andere sporten, zoals Marc Lammers en Robin van Galen, al jaren met succes gebuik maken van sportpsychologen en de factor stress bij het nemen van strafschoppen vaak duidelijk een beslissende rol speelt.
Analyse

Verder haalt Gyuri Vergouw het voorbeeld van Noorwegen aan als land waar in de voetbalsport veel gebruik wordt gemaakt van statistieken en het analyseren van standaardsituaties en verlengingen. Dit terwijl volgens hem het conservatisme binnen het Nederlandse voetbal overheerst en er geen innovatie en ontwikkeling (meer) plaatsvindt. Coaches worden vaak geselecteerd op basis van reputatie met een hoog 'ons kent ons'-gehalte en er wordt nauwelijks met een kritische blik gekeken naar het daadwerkelijk functioneren van betreffende coaches. 
Leiderschap

Als het om leiderschap in de sport gaat put Gyuri Vergouw zowel uit de sport- als de managementliteratuur (zoals bijv. de boeken van Peter Drucker). Bij het onderdeel 'Assistenten' refereert hij vooral aan de taak- en functiegerichte assistenten uit de Amerikaanse profcompetities als de NFL en de MLB. Daarnaast concludeert Gyuri Vergouw in zijn boek dat bij de opleiding binnen de Nederlandse School de nadruk vooral ligt op techniek ipv winnen en dat er een bepaalde 'arrogantie' binnen de voetbalwereld bestaat als het gaat om het gebruik maken van wetenschappelijk onderzoek.  

Categories: Literatuur
/