Shopping Cart
Your Cart is Empty
There was an error with PayPal
Click here to try again
Thank you for your business!
You should be receiving an order confirmation from Paypal shortly.
Exit Shopping Cart
| | |
| --- | --- |
| Posted on March 16, 2016 at 10:45 AM | |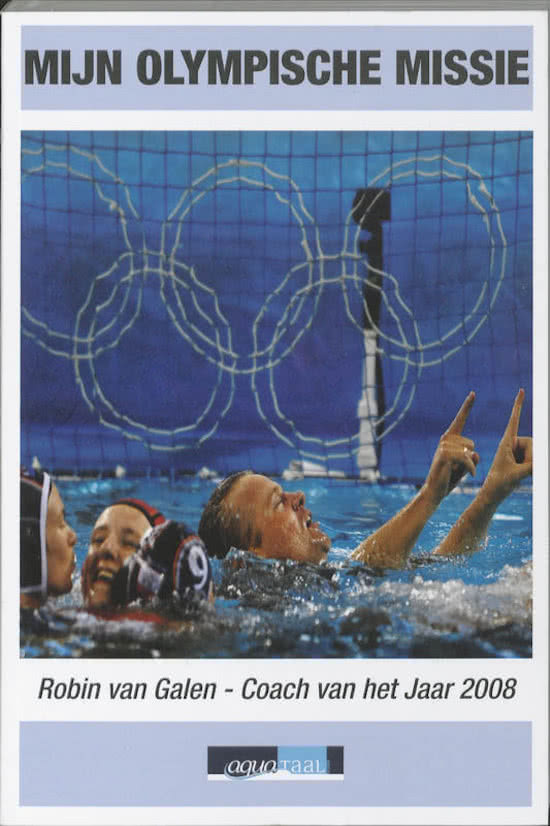 In zijn boek 'Mijn Olympische missie' vertelt waterpolocoach Robin van Galen over welke methoden hij gebruikt heeft en welke personen hij heeft ingeschakeld van buiten de sportsector om zijn team klaar te stomen voor de Olympische Spelen van 2008. Zo heeft hij o.a. gebruik gemaakt van 'De Zeven Eigenschappen' van Stephen Covey (zie post van 29 januari 2016 van deze blog). Hij gaf het boek van zijn zoon Sean Covey, getiteld 'De zeven eigenschappen die jou succesvol maken' (de jongerenversie), aan zijn selectie kado voor de kerstdagen om te lezen.
Teamproces

Daarnaast maakte Robin van Galen gebruik van de theorie van Bruce Tuckman rond de vijf fases van een teamproces (forming, storming, norming, performing, adjourning). Het vormde de basis voor een uitgebreide vragenlijst die hij zijn selectie liet invullen om daarmee een grondige analyse/evaluatie op te stellen naar aanleiding van het teleurstellend verlopen WK in Melbourne in 2007. Verder heeft hij gebruik gemaakt van de zes aandachtscirkels van Eberspächer. Aan de hand hiervan leerde hij zijn selectie hoe ze hun aandacht voor, tijdens en na wedstrijden konden richten op de juiste factoren. En hij gebruikte deze theorie om zijn eigen coaching tijdens wedstrijden te analyseren.
Actiontype

Een andere belangrijke methodiek waar Robin van Galen gebruik van heeft gemaakt is gebaseerd op het boek 'Totaalcoachen' van Peter Murphy en Jan Huijbers. Aan de hand van zogenaamde 'actiontypes' verschaffen ze coaches en managers inzicht in de gedagsvoorkeuren van zichzelf en van de individuen binnen hun team. Deze methodiek is gebaseerd op de MBTI-methodiek (Myers-Briggs Type Indicator). Aan de hand van een vragenlijst heeft Robin van Galen de gedragsvoorkeuren van zijn speelsters in kaart gebracht, zodat hij in de praktijk zoveel mogelijk rekening kon houden met de behoeften en voorkeuren van de speelsters, zonder zijn eigen voorkeuren te negeren. Met de toepassing van de methodiek groeide het onderlinge begrip voor afwijkende reacties en gedragingen aanmerkelijk.
Doelen

Ook heeft Robin van Galen veel aandacht besteed aan het (SMART) formuleren van doelen. Doelen stellen helpt sporters persoonlijke groei en topprestaties mogelijk te maken. Met een acceptabel doel voor ogen neemt het zelfvertrouwen en de motivatie onder sporters toe. Het daagt sporters uit om zich maximaal in te spannen, door te zetten en om te blijven leren. De grootste teleurstellingen in de sport komen voort uit doelen die te algemeen, te hoog, te laag of zonder instemming van de mensen die ze moeten bereiken, worden bepaald. Daarbij wordt onderscheid gemaakt tussen procesdoelen, prestatiedoelen en resultaatdoelen. Robin van Galen maakte in dit kader ook gebruik van de methodiek van het 'visualiseren': beschrijf bijv. hoe je denkt dat de Olympische Spelen voor jou gaan verlopen.

Maslow

Het boek 'Los' van judoka Dennis van der Geest (zie post 11-11-16 van deze blog) inspireerde Robin van Galen om gebruik te maken van de behoeftetheorie van Maslow, bekend uit de economische wetenschappen. Om jezelf in staat te stellen, de ideale fysieke en mentale toestand te bereiken, moet je beantwoorden aan de vijf kernbehoeften van de mens: primair levensonderhoud, zekerheid en veiligheid, sociale contacten, waardering en zelfontplooiing.
Categories: Literatuur
/